A guide to visiting Menorca
Cheap Travel
Family Travel
Visiting Menorca: Everything you need to know
Visiting Menorca should be on everyones bucket list! It is one of the Balearic Islands nestled in the Mediterranean Sea. This picturesque island, often overshadowed by its more lively neighbours, Mallorca and Ibiza, offers a unique blend of natural beauty, rich history, and authentic culture.
The paradise beaches are definitely a highlight, and despite being smaller than its neighbouring islands, Menorca has more beaches than Mallorca and Ibiza combined! If you are dreaming of visiting Menorca, this article is for you! We will delve into the enchanting world of Menorca, highlighting the best places to stay and the best things to do for an unforgettable yet budget friendly experience.
Where to stay when visiting Menorca
Mahon (Mao)
Menorca's capital city, Mahon, is a vibrant and historical hub with a range of accommodation options to suit all budgets. It is only a 10 minute drive from the airport making it a great place to stay for a shorter trip. The city is known for its natural harbour, one of the largest in the world, where visitors can enjoy waterfront dining and watch ships come and go. You can choose from boutique hotels, charming guesthouses, or even luxurious resorts if your budget allows. Look at more peripheral accommodation to get the most for your money.
Mahon is a transportation hub making it a great spot for those wanting to explore using public transport. Es Castell is a charming little village located by Mahon which you may wish to check out whilst visiting Menorca. It offers a more laid back, authentic experience without the tourist price tags.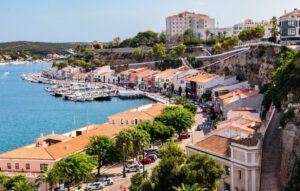 Ciutadella
Located on the western coast of the island, this city around a 45 minute drive from the airport, Ciutadella is Menorca's former capital and boasts a rich history. I personally preferred this city to Mahon. The cobbled streets, quaint squares, and elegant architecture create a perfect setting for a romantic getaway. Ciutadella hosts the San Joan Festival every June, a fantastic time to visit and enjoy Menorca's cultural heritage. With lots of great public transport routes to nearby beaches, it is a great location if you are exploring the island without a car.
Fornells
If you prefer a quieter, more authentic experience, Fornells is an idyllic fishing village on the northern coast of Menorca. It is around a 30 minute drive from the airport. Known for its stunning bay and water sports opportunities, Fornells offers charming accommodation like family-run inns and boutique hotels. This peaceful village is perfect for travellers seeking peace and relaxation. Fornells is known for having some of the best seafood restaurants on the island.
Cala Galdana
Cala Galdana, situated on the southern coast, is often considered one of Menorca's most beautiful beach resorts. Located just a 30 minute drive from the airport. The resort features a huge horseshoe-shaped bay with golden sand and crystal-clear waters. It is a stones throw away from some of the most beautiful virgin beaches on the island. Several upscale resorts and family-friendly hotels dot the coastline, providing breathtaking sea views and direct access to the beach. Cala Galdana is an excellent choice for those seeking sun, sea, and sand.
Punta Prima
Located on the south eastern tip of the island, Punta Prima offers a range of budget-friendly accommodation, including affordable hotels, apartments, and guesthouses. It is only a 20 minute drive from the airport. The town has a beautiful sandy beach with shallow, crystal-clear waters making it ideal for swimming and sunbathing – a free and fun way to spend your days!
As we drove down to Punta Prima we were blown away by just how white the sand was. The sea is crystal clear and calm, perfect for little ones. From here you can take a little tourist train to Binibeca, a beautiful coastal village with white washed houses. Think Santorini, Greece and you wont be too far off!
Cala'n Bosch
Located around an hours drive from the airport, Cala'n Bosch is one of the most popular resorts on the island. It was purpose built as a tourist resort, meaning it is a convenient place to stay with many bars, restaurants and things to do. The town is centred around a huge marina offering a lively yet charming atmosphere. Accommodation here is really well priced, and with lots of choice for places to eat and drink there are options to suit all budgets. There is a lovely sandy beach close to the marina, meaning you won't need to spend a fortune to keep yourself entertained. The charming city of Ciutadella is close by, making a great day trip out.
Visiting Menorca: When should I go?
The best time to visit Menorca will depend on what type of trip you are wanting. The island has so much to offer all year round. Naturally prices soar during the peak summer months of July and August.
I want to sunbathe and swim in the sea
Visiting between May and September will be ideal for you, with the hottest weather being in July and August. Note that these peak summer months also bring the bigger crowds. We visited in August and couldn't believe how busy many of the beaches were. To visit the beautiful virgin beaches along the south coast, you had to be in the car parks before 7:30am otherwise they were full! A level of tourist crazy I have never experienced before! Visiting Menorca in May, June or September could be a good compromise to get cheaper accommodation, less crowds and still experience the sunshine.
I want to hike and experience nature
Spring is a great time to visit when the weather is cooler, there are minimal crowds and wild flowers are in bloom. This is a great time of year to explore the many coastal hiking trails. Note that many of the beach resorts close down outside of the summer season, so for an early spring trip you are best looking for accommodation in one of the cities.
I want to do a bit of everything!
Throughout the Autumn months Menorca still has a very pleasant temperature, with highs of 23C in October. There is more chance of experiencing overcast days compared to the summer months, but this cooler weather is perfect for sight seeing and exploring. You will very likely have days where it will be sunny and perfect for the beach, but overcast days which will be great for exploring the cities and coastal hiking trails. We tried to do some of the hiking trails between the beaches in August and it was just too hot. Walking around a city in 38C heat is not very pleasant!
I want a relaxing city break
You can get some fantastic prices throughout winter when the island is in low season. Mahon is a great base for a short weekend trip at this time of year. Menorca's winter is mild compared to a lot of Europe, with December highs of around 15C. With a Christmas market and festive lights throughout the city, a December trip to Mahon will be magical and budget friendly. A romantic idea that we love to do in the winter months is have a picnic on an empty beach! Wrap up warm, get some supermarket snacks, and enjoy this unique experience that you could never get in the summer months!
What to do when visiting Menorca
Visit the Beaches
Menorca boasts some of the most pristine and beautiful beaches in the Mediterranean. You will struggle to find whiter sands and more turquoise water! There are numerous virgin beaches which are pretty untouched by mass tourism. I say this, in the summer months they are VERY touched by tourists! We had to get to the car park at 7:30am to secure a spot at one of the beaches! But most are set away from the car parks, with minimal facilities, giving that isolated paradise vibe.
Our favourite virgin beach was Cala Turqueta, the middle of 5 virgin beaches connected by coastal hiking trails. These beaches spanning from west to east are Son Saura, Cala des Talaier, Cala Turqueta, Macarelleta and Cala Macarella. You can park at Son Saura, Cala Turqueta or Cala Macarella. There are cafe facilities by the car parks at Turqueta and Macarella. If you want to combine some beautiful hiking trails with a cool down in the sea, a day exploring this area will be perfect.
Explore Historic Sites
Menorca is steeped in history, with a rich assortment of archaeological sites and historical landmarks. The Talaiotic period left behind a legacy of pre historic stone monuments, including the Naveta des Tudons and Torre d'en Galmés. Menorca has an impressive 1500 megalithic sights, perfect for anyone with an interest in ancient civilisations. Ciutadella and Mahon are also home to charming old towns with historic churches, fortresses, and palaces.
Hike the Cami de Cavalls
The Cami de Cavalls is a 185km coastal trail that goes around the entire island, providing breathtaking views of Menorca's coastline. It originated in 1330 when the king insisted everyone have an armed horse ready to defend the island! A path going around the entire island made it easy to keep watch.
Whether you're an avid hiker or are just looking for a leisurely stroll, this trail offers a unique perspective of the island's beauty.
Sample Menorcan Cuisine
The typical food in Menorca is a delicious blend of Mediterranean flavours, showcasing fresh seafood, locally sourced ingredients, and traditional recipes. The most famous Menorcan dish is lobster stew (caldereta de langosta). They use the local spiny lobster cooked in a tomato, onion and garlic sauce. Absolutely delicious and available across the island.
Don't miss out on trying Mahon cheese too, a white cheese made from cows milk with a salty edge to it due to the sea salt on the grass the cows eat! If you have a sweet tooth, ensaimadas are a delicious traditional sweet pastry enjoyed across the island.
Visit Lithica
We stumbled upon this one by accident but it's a really unique and fun way to spend an hour or two. This former sandstone quarry has been transformed into something beautiful. Now home to a huge maze and gardens that you can walk around and explore. Leo absolutely loved the maze and running around the gardens. It is only €7 for adults and is free for under 12's, so a great budget friendly and unique activity to add to your trip. You can buy tickets here.
Visit Illa del Rei (a budget friendly boat trip)
Leo loves a boat ride, so this fulfilled his wishes and meant we got to see somewhere interesting at the same time. From Mahon you can take a boat across to 'Hospital Island' for just €10 return (Leo was free), a great value way to spend a few hours. It takes around 15 minutes to get to the island. You can sit at the top of the boat enjoying the sun and wonderful views.
Once on the island there are a variety of art galleries with some free activities for little ones. There is also a lovely place to get an al fresco lunch or some drinks. The old hospital here was constructed in 1711 by the British who controlled Menorca for most of the 18th Century. You can walk around and explore this unique building.
The boat that takes you there is a big yellow catamaran – you can learn more about this here. The boats left for the island on the hour, and returned back from the island at half passed the hour. We stayed for an hour and a half. When you get back to Mahon, keep an eye out for a lovely little playground right by where you will depart the boat.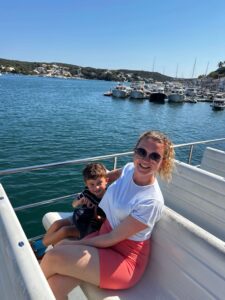 Where did we stay?
A lot of you like to know exactly what we did. We stayed in Santo Tomas, a quiet resort town on the south of the island. Would we recommend it? Maybe.
Accommodation
Our accommodation choice was based purely on budget. Visiting in August and planning to explore the island by car, meant our location didn't matter as much as nabbing the best possible price. We managed to get our flights and a weeks accommodation for £1300 for the three of us, which is a bargain for an August stay on this popular island. (This trip was found using our Start your Journey website feature!)
Our accommodation was called Vistamar Apartments a great budget friendly option for families. We had a lovely balcony overlooking the sea and a kitchen which meant we saved tons on eating out. One downside was that our room didn't have air conditioning, but it's worth noting that lots of the rooms do. It seems to be pot luck which you get!
The lady at reception said we should have messaged ahead to say we had a young son and would like an air conditioned room if one was available. Something you should definitely do if you plan to stay here. They did provide us with lots of fans which kept us comfortable. There is an on site restaurant, a pool and the hotel is right by the beach. Santo Tomas isn't the liveliest town and restaurants are limited, but it is the perfect base if you are planning to explore, or just want to spend a week by the pool.
Getting about
We chose to hire a car for our 7 night stay. Having a car allows you to work to your own schedule and not that of public transport. It is also the most convenient way for our son to travel, allowing us to work around any potential tiredness. We used a company called OK mobility which had the cheapest price for our stay. At just £250 for 7 nights, in August, we were willing to take the risk with a company we hadn't used before. Overall our experience was good. They pick you up at the airport and take you to their air conditioned office to fill out some paperwork and collect your car.
I always recommend using a comparison website to look for car hire prices and not simply heading to a specific companies website. The best value company will vary depending on when and where you are travelling.
Are you thinking of visiting Menorca?!
Use our Start your Journey search tool for look for the best value flights and hotels. All of the hotels we recommend are in good locations and have great reviews.