Cinque Terre: On a Budget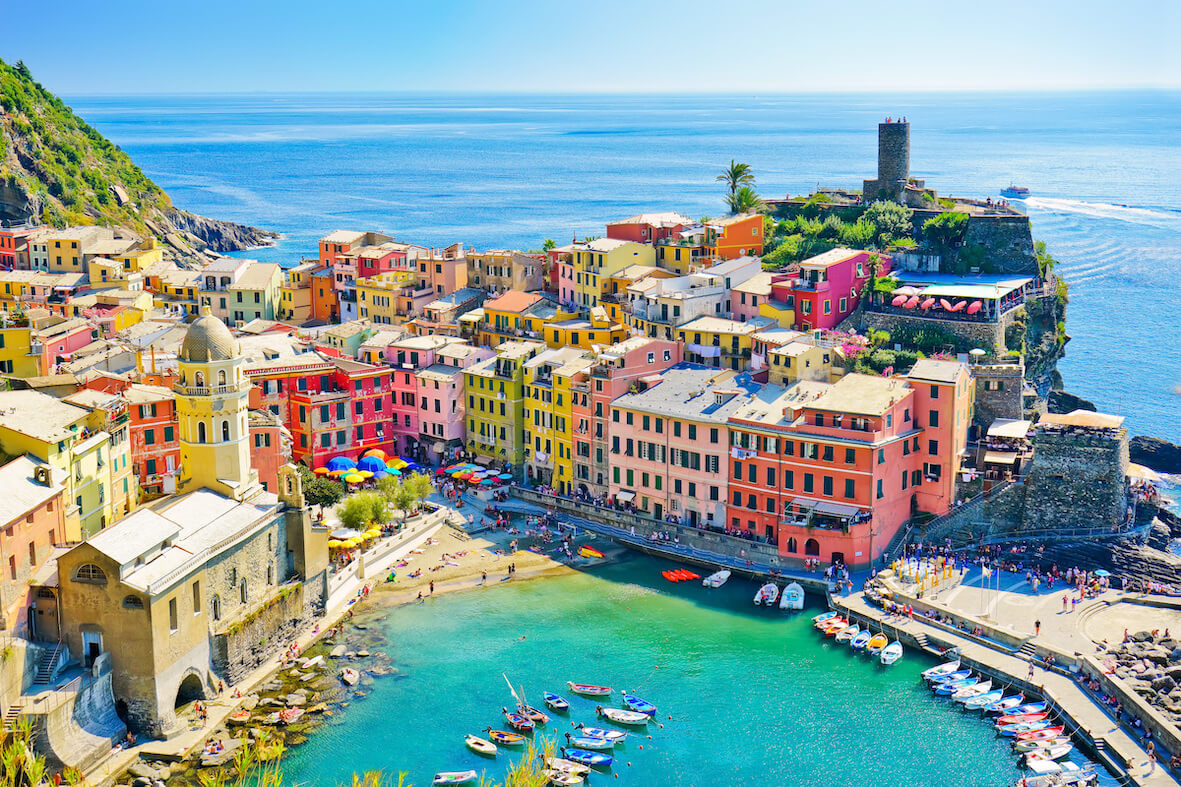 Cheap Travel
Family Travel
Exploring Cinque Terre on a Budget: Your Ultimate Guide
Nestled on the stunning Italian Riviera, Cinque Terre is a dream destination for travellers seeking picturesque landscapes, charming villages, and a taste of authentic Italian culture. While it's often considered a pricey destination, with a bit of savvy planning, you can experience the beauty of Cinque Terre without breaking the bank. In this guide, we'll show you how to visit Cinque Terre on a budget.
Getting there
The closest airport to Cinque Terre is Genoa (GOA). Many budget airlines fly here from a variety of UK airports. Use our Start your Journey feature and input "Cinque Terre" as your specific destination. We will help you find the best value flights and accommodation for your stay. Our flights were £42pp for a Wednesday – Sunday stay in May. We flew from Manchester which has some great options for this route. We only travel with rucksacks which count as the free under seat allowance on budget airlines. We have lots of videos on social media discussing how we do this!
Once you get to Genoa airport you can take a short shuttle to the train station. Head to the tourist information centre in the arrivals hall and ask about this. The tickets are only €1.50, once you get to the train station you can purchase a train ticket to your base. There is absolutely no need to splash out on a taxi.

Choosing a Budget-Friendly Base
One of the best ways to visit Cinque Terre on a budget is by choosing an affordable base for your stay. Would it be lovely to stay in one of the five towns? Absolutely, but it is the best value way to do this trip? Nine out of ten times it is definitely not.
Rapallo
We stayed in Rapallo, a charming seaside town located just a short train ride away from Cinque Terre. It is an excellent choice as a great value base, here's why:
Cost-Effective Accommodation: Rapallo offers a variety of budget-friendly accommodation options, including hostels, guesthouses, and budget hotels. While accommodations in Cinque Terre can be quite expensive, Rapallo provides excellent value for your money.
Easy Access to Cinque Terre: Rapallo boasts a well-connected train station, making it a convenient starting point for your Cinque Terre adventure. You can hop on a train and reach the 5 towns within 30 minutes. It is much closer to Genoa airport than La Spezia which is discussed below, making it a good mid point base. 
Local Charm: Rapallo has its own unique charm, with a scenic harbour, impressive promenade, and a lovely historic center. It's a great place to unwind after a day of exploring Cinque Terre.
Short distance to Portofino: The luxurious town of Portofino is a must visit for many visiting this region. From Rapallo we walked to nearby  town, Santa Margherita Ligure, then took a short bus into Portofino.
Budget eats: Head to 'Il Focacciaio' for some great value italian pizza!
Our two bedroom apartment in Rapallo was £600 for 4 nights, split between two couples just £300 each (£150pp).
La Spezia
Another great option for a budget friendly stay is La Spezia, a bustling city south of the Cinque Terre offering a wide choice of accommodation and easy access to public transport.
Affordable Accommodation: La Spezia has lots of budget friendly accommodation options.
Frequent Train Services: La Spezia is well-connected to the Cinque Terre towns via frequent regional train services. It takes just 7 minutes to get from La Spezia to Riomaggiore, the most southern of the Cinque Terre towns. The short journey times and low priced tickets make it quick and easy to explore the entire region without breaking the bank.
Variety of Dining Options: La Spezia offers a huge range of dining options to suit various budgets and tastes. You'll find plenty of affordable trattorias, pizzerias, and local eateries where you can enjoy delicious Italian cuisine without overspending.
The Five Towns
Monterosso – The family friendly one
Monterosso is the largest of the five towns that make up Cinque Terre. If you are looking to relax on a beach, this is the town for you. Monterosso offers a perfect blend of sun-soaked relaxation and authentic Italian charm. The town is divided into two distinct parts: the historical center, with its narrow winding streets, colourful buildings and vibrant local markets. The other half is the newer, Fegina, known for its long sandy beaches and waterfront promenade. Here you can explore the medieval Monterosso Castle, which offers panoramic views of the coastline, or indulge in the region's delectable seafood and Ligurian specialties at the many seaside restaurants.
One of the things we really loved about Monterosso were the two playgrounds we found. One in the Fegina half of town and another larger playground in the historical center. If you are travelling with kids you will find there isn't an awful lot of child specific activity for them, so half an hour letting off some steam in a playground is a god send!
Monterosso is definitely the best town for families, it is relatively flat compared to the other towns and with the large beach and playgrounds your kids will be entertained.
Vernazza
Vernazza is the most beautiful town in my opinion. The town boasts a picturesque harbour surrounded by pastel-coloured buildings. We commented that it felt like we were in the Disney movie Luca! To get the best view (like the one in the photo below) you need to do the hike from Monterosso which I discuss further down this post. Wandering through its narrow cobblestone streets, we enjoyed the vibrant piazzas, lively cafes, and quaint shops that showcase local crafts and delicacies. We got a cone of fried seafood (Fritto Mistro) and took it to eat by the harbour. A perfect budget friendly lunch.
Corniglia
Nestled at the top of a dramatic cliff, Corniglia has a unique and tranquil charm. The only village without direct sea access, Corniglia draws in visitors with its terraced vineyards, olive groves, and fantastic views of the Mediterranean. Accessible by climbing the iconic Lardarina stairway, this intimate village boasts a more secluded atmosphere compared to its coastal counterparts. If you are travelling with kids, a pram or anyone with mobility issues, you should give this one a miss. The central square, adorned with vibrant flowers and surrounded by inviting cafes, provides a perfect spot to enjoy some local specialties.
Manarola
Manarola is another postcard-perfect gem within the Cinque Terre. Characterised by its colourful, stacked houses clinging to the rocky terrain, this charming town is a must visit. Manarola has the start of the hiking trail 'Via dell'Amore' (The path of love), which connects it to the neighbouring town of Riomaggiore. It is the shortest hike at just 1km long and offers breathtaking views of the coastline. With a paved, flat path it is great for anyone wanting to experience one of the hiking trails without too much effort!
We visited Nessun Dorma for a drink and some tapas. You have to walk up quite a steep hill to get there, and be ready with their app at 15:30 to reserve a spot for when it opens at 16:00. You then wait in line whilst they call out numbers (which you will have received on the app). The wait was worth it as the views were amazing. Head to our instagram and check out my "Italian Riviera" highlight to see videos of this place!
Riomaggiore
Riomaggiore is located at the southeastern most tip of Cinque Terre. The charming harbour, dotted with fishing boats and surrounded by vibrant cafes and shops, serves as a central hub for exploring. Riomaggiore is home to a 13th century medieval castle that stands high in the cliffs, offering panoramic views of the town and coastline. Don't miss out on the 'Via dell'Amore' – a 1km path connecting the town to Manarola.

Moving Between the Five Towns of Cinque Terre
Cinque Terre is known for its rugged coastline and picturesque villages, each with its own distinct character. Visiting all five can easily be done over two days. We visited four of the towns in one day with a small child and my parents who are in their 60's. It is possible to do all five in one day, but you will want to start early!
To explore them all without blowing your budget, make use of these cost-effective transportation options:
Hiking Trails
Cinque Terre offers a network of well-marked hiking trails that connect all five towns. The most famous trail is the Sentiero Azzurro (The Blue Path), which provides stunning coastal views. The trail is divided into 4 sections (between the five towns) and is 12km in total.
If you just fancy one hike to get the experience, we recommend the Monterosso to Vernazza path, it will take you around 90 minutes and the views of Vernazza at the end are incredible (See above photo of Vernazza). To use the trails during peak season you need to purchase a Cinque Terre Trekking card, this is €7.50 per day. If you plan to buy a train card (discussed below) you won't need to buy an additional trekking card as the hiking card is included. 
Trains
Regional trains run frequently between the five towns, making it easy to hop from one town to another. A Cinque Terre Card will give you unlimited train access for a set period, which can be a cost-effective option if you plan to move between the towns frequently. The card will cost you €18.20 for a day of travel and also gives you access to the hiking trains and toilets within the stations (usually €1 per pee!). Individual train journeys cost between €2.50 and €5 – work out if you will use the train often enough to justify the €18.20.
When to visit?
In our opinion, the best time to visit Cinque Terre on a budget is from May to June and September to October. We visited in early May and it was perfect. During these periods the weather is mild with temperatures ranging from 18 to 25 degrees Celsius. This will allow you to explore the towns comfortably, without the intense heat of summer or the chilly conditions of winter. Accommodation prices are much more reasonable outside of the peak summer months. Additionally, the landscapes are vibrant with lush greenery in spring and warm autumn hues, creating a stunning backdrop for hiking along the scenic trails that connect the towns. These months also see fewer tourists compared to the peak summer season, providing a more relaxed and enjoyable experience for those seeking a peaceful getaway.
Isn't food expensive?
When visiting anywhere on a budget, you have to be cautious of your food spend. If you can find a hotel with free breakfast then you are off to a good start. On arrival we always do a supermarket shop and make sure we book somewhere with kitchen facilities. We still want to experience the local food, but it doesn't have to be every meal of the day. During this trip we made our own breakfasts and dinner in the evening, and enjoyed a traditional lunch whilst out for the day.
Whilst choosing where to eat out, research budget restaurants in ____ , and have a look on google maps at the reviews. The last thing you want is to waste one of your meals out at a terrible place. We went for street food over sit down restaurants to save money. Pizza and panini's are a great cheap lunch option. Budgeting on most days can allow you to have one fancier meal at the end of the trip.
Conclusion
Visiting Cinque Terre on a budget is entirely possible, especially if you choose a budget friendly base and take advantage of affordable transportation options. With its breathtaking landscapes, colourful villages and delicious cuisine, this Italian gem offers an unforgettable experience without emptying your wallet. By following these tips, you can create a memorable and budget-friendly adventure in one of Italy's most iconic destinations!