Corfu – A Cheap Greek Island Getaway.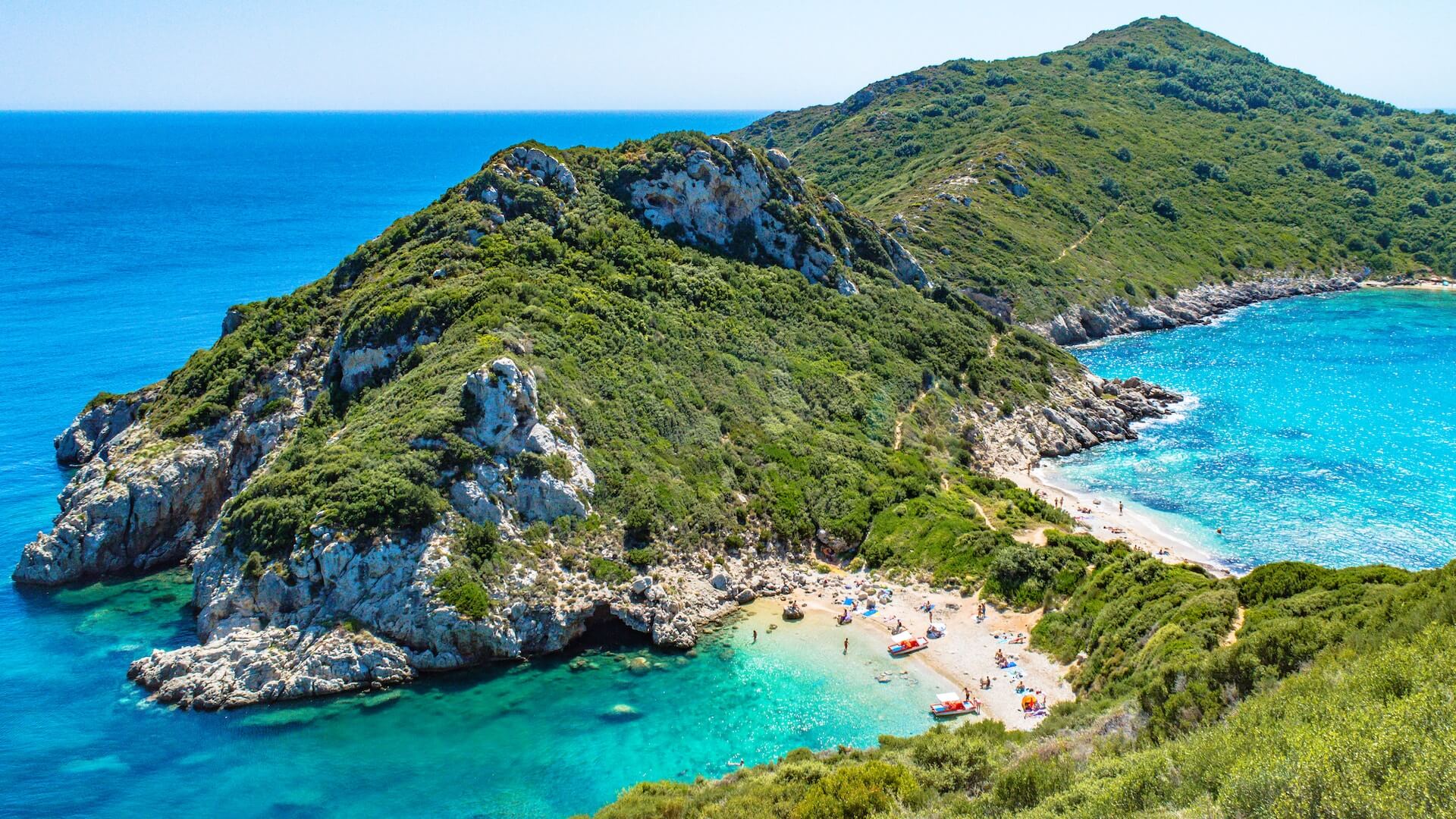 Corfu – A Cheap Greek Island Getaway.
Corfu,or Kerkyra, is a Greek island located off the Northwestern coast of mainland Greece. The island is one of the most northernly of all the Greek islands. If you are looking for a Cheap Greek island getaway with tons of history, great food and amazing beaches with the most insanely blue sea you may ever lay your eyes on? – Then Corfu might just be a contender for your next trip. If this post convinces you that Corfu might be for you, use the below map to see some prices for your dates. 
Getting around
Car hire
The island is relatively small and is easy to get around by car. We stayed on the west coast in a town called Lakones, high in the mountains close to the beautiful Paleokastritsas. You will have likely seen the amazing beaches of this region on social media. The views we had from our hotel were unbeatable, but I will come on to this later.
After landing in Corfu airport we collected our hire car and drove for around 30 minutes across the whole width of the island to our hotel in the West. Longitudinally the island is larger, a drive from north to south takes around two hours. Having a car means you can see all of the main sites on the island at your leisure. Our car cost us £100 for the week (plus £25 for a child's car seat) – when we divided this price between the four of us, it was a lot cheaper than paying for taxis or buses. The company we used was Alamo but if you do a quick comparison search, there are lots of companies that offer similar prices at this time of year (end of March). During our stay we spent 60 euros on petrol. Given that we drove around the whole island, and petrol prices are crazy at the moment, this was great value. You receive the car with a full tank of petrol, and have to return it in the same state.
Our little car for the week
Taxis
There is a taxi rank right outside the airport, close to where you collect the hire cars. Average prices from Corfu Airport at the moment (2022) are:
To Kavos in the South (65mins) – 100 €
To Sidari in the North (45mins) – 85 €
To Paleokastritsa in the West (30mins) – 65 €
Naturally prices will increase for night time journeys.
Bus
Corfu has two types of buses, green buses that carry out longer journeys, and blue buses that travel shorter distances around Corfu Town. This will obviously be a lot cheaper than a Taxi – use this website to check timetables and prices: https://www.greenbuses.gr/
When to visit
We visited at the end of March. There are plenty of pro's and con's to consider when deciding what time of year to visit. A lot of bars and restaurants within tourist resorts start to open in early April, with the majority of places being open at the start of May. The best prices are found at the end of March/start of April. If you visit before April like we did, if you wish to eat out you will need to visit local towns and villages which have Tavernas open for the local people. This is a unique and more authentic experience in itself and means you get a better taste of local life. We ate some incredible (and cheap!) Greek food which we would have missed out on by going to more resort orientated restaurants.
Summer
The summer months (June/July/August) bring the warmer weather, but consequently the mass of tourists and peak season prices. With such narrow roads through the mountains and small villages, the increase in tourists makes getting around a lot more tricky. Many roads are a tight squeeze for just one car, so I can't imagine the chaos during the summer months. Deciding when to visit really comes down to the type of trip you are looking for. If you plan to lay by the pool, relax and do very little, the summer months are definitely the better option for you as the increase in tourists won't affect you too much. The down side is that you will pay a lot more. If you want to get out and explore, consider the cheaper and cooler months of March/April/May. Like with everything in life, it really comes down to personal preference.
March/April/May
If you want to get out and see the many amazing things this island has to offer and want a super cheap trip, then earlier in the year will be preferable for you. The cooler weather is better for sight seeing and climbing up to the amazing views/down to lesser known beaches. Tourist numbers remain low meaning you can have the unique experience of being the only person on a paradise beach and be able to drive around stress free. Driving through the many quaint villages and along cliff side roads is much easier with little to no traffic. A big plus to travelling out of season is you will spend a lot less money while experiencing the island in its most peaceful state. You can easily pay less than £100pp for your flights and a weeks accommodation when travelling in March/April – this begins to rise considerably as you approach May/June/July/August. For example, we stayed in a two bedroom apartment with amazing sea views which cost us £400 for the week – (£100pp) the exact same room in August is £1600 – 4 times the price and definitely outside our budget!
The down side to this time of year is the weather, although you can expect some sunny days, there is a much higher chance of rain and cloud cover. Of the 7 days that we were there in March, we had two sunny days (sunglasses, shorts and beach weather) four cloudy days (jeans/tshirts/coats needed but pleasant) and a day of torrential rain. Aside from the rainy day, the other days were perfect for seeing the island. (We spent the rainy day touring the east coast from the car).
Where to stay
If you plan to rent a car, your location is less important than if you are considering walking or using public transport.
Out of season the busiest place to stay is Corfu Town and will be ideal if you don't have a car – from there you can get buses/taxi's to the sights you wish to see and will have lots of food and drink options close by. If peace and relaxation by the sea is what you want, consider one of the many beach resorts around the island. You can find amazing prices on hotels with superb sea views outside of the summer season – perfect for a super budget trip exploring and enjoying the company of your loved ones. Find a place with a kitchenette so you can prepare your own meals and save money.
Avoid Kavos out of season, this resort town really is set up for the crazy night life. The beaches aren't great and it will be completely dead before the 1st May. May/June will see the opening of bars and clubs, with a slightly more chilled scene and amazing prices. The chaos really kicks off in July/August, when prices are at their highest.
For History / Culture – Corfu Town
The capital of Corfu is perfect for anyone wanting to explore the history of the island. In 2007 the old town was made a UNESCO World Heritage Site. With endless cobbled streets lined with Venetian terraced houses and businesses, Forts, Georgian mansions, Museums and Palaces, there is a lot to explore here. Stop at the Liston Arcade for a coffee and some people watching. Climb to the top of the Old Fortress for panoramic views of the town. Take a stroll around the Museum of Asian Art – even if you have no interest in art, the building itself is beautiful and worth admiring. Don't miss one of the most famous spots in Corfu, the Vlacherna Monastery. A 10-15 minute drive south of the Old town, this 17th Century Monastery is an icon of the island. It is a great place for plane spotters as it is located right by the airports runway, it is exciting for kids (and adults!) to watch the planes fly directly overhead.
For the Best Beaches – Paleokastritsa
Considered one of the most beautiful resorts of the island, Paleokastritsa is the perfect location for a relaxing beach getaway. It boasts six spectacular coves with amazing turquoise water. Agios Spyridon is the most popular beach in the area, and considered the most beautiful by many. Whilst visiting in March we were often the only people on the beach, a unique experience if you have only ever visited in the summer months. Make sure you take a walk up to the monastery of Theotokos – a 12th Century Monastery set on the top of a hill by Agios Spyridon beach. The views from the top are spectacular and the Monastery is a beautiful place to take a stroll around.
If you are travelling with children (or if you want to learn more about the local sealife) Corfu Aquarium is definitely worth a visit. The Aquarium is small but you are escorted round with a knowledgable guide who will tell you lots about the creatures you are seeing. This is the first time I have had a guide in an aquarium and it makes it so much more interesting, even for our three year old who wouldn't stop asking questions! There is a handling area where they show you hermit crabs, sea urchins, sea cucumbers – great fun for the little ones. Then a reptile area where they let you see the snakes up close. Behind the aquarium is a cafe that sells great coffee and alcohol too, it is open out of season and they have deck chairs overlooking the sea – a great place to stop and appreciate the areas beauty.
Cafe behind Corfu Aquarium
For the Best Views – Lakones / The Golden Fox / Angelokastro Castle
We stayed in Lakones at a hotel called The Golden Fox. Lakones is a small town located in the mountains, accessible by a long winding road, around 10 minutes drive from Paleokastritsa.
I honestly believe these views are the best on the island. From the 'Bella Vista' viewpoint you can look down upon the gorgeous coastline of Paleokastritsa. The Golden Fox hotel has a pool and restaurant, both making the most of the exceptional views. Even if you choose to stay somewhere else on the island, it is worth visiting here for a meal. The pool is available to the public, so you could spend an afternoon there relaxing by the pool and having a few drinks.
Whilst in this area you must visit Angelokastro Castle (Castle of the Angel) – Located on the highest peak of the islands coastline, it is another great spot to enjoy some fabulous views. It is one of the most important fortified complexes of Corfu and formed an important part of the islands defence against pirate assaults and the three sieges by the ottomans. The climb to the top requires a reasonable fitness level but is worth it for the views. We went during spring when the castle is covered in wild flowers. The perfect time to visit, especially with the cooler weather making the climb a lot more comfortable. Don't miss out on seeing the chapel carved into the rock, located on the east side of the castle.
View from Angelokastro castle
For best nightlife – Kavos
If you are looking for a crazy night scene, then Kavos may be for you. A similar vibe to other 18-30 resorts like Magaluf and Malia – you will find lots of bars, clubs and young people out to have a good time. In peak season, most of the hotels and guest houses in the area will be full of young people drinking lots and living their best life. So best to avoid if this isn't for you.
Bars like the Rolling stones Bar, Snobs bar, 42nd street and Buzz bar are just a few of the great places you can work your way through into the early hours of the morning.
What to eat
This will really make or break your budget. I have listed the options you can consider below. Ideally you will do a combination of eating in and out, to keep your spending low whilst still experiencing the amazing local food.
Self catering – Eating in
This is going to be the most budget friendly way to eat. It is also easier if you have a toddler who may not have the patience for restaurant dining. You can shop at supermarkets and make your own food, perfect whichever season you visit. Take this into consideration when choosing your accommodation and look for a place with a kitchenette. We ate a supermarket breakfast in the room (pastries/yoghurts/bread/coffee) plus made a few of our own dinners to keep our spending down – salad, meats, olives and cheeses with fresh bread / olive oil / balsamic vinegar was our low effort go to, naturally with a bottle of wine (or three…) – this would cost around 3 euros each between four of us. Wine is very cheap and a bottle will set you back around 4 – 5 euros (if you aren't too picky, which we aren't!). I understand some people won't want to have the hassle of preparing food whilst away – but even preparing one meal a day can make a huge difference to your spending money. Make sandwiches for your lunch or just buy some snacks to keep hunger at bay!
Hotel catering – Eating in
When searching for your rooms, you can filter results based on 'board basis' – This ranges generally from Breakfast included, Half board (Breakfast and Dinner) up to All Inclusive (All meals, snacks and drinks) – Often you can find places that include breakfast for a similar price to Room only. Spend some time comparing prices of the different options available. 'Breakfast included' is a favourite option of mine. By starting your day off with a big breakfast, using the bread there to prepare some sandwiches for lunch (don't be too obvious whilst doing this…) and then enjoying Dinner out – you get to save money whilst still experiencing the local food. All inclusive is great if you plan to stay in the resort and want zero hassle. The down side is that the food will tend to be more generic and not indicative of the amazing cuisine you would experience more locally. The food (in many resorts) is being mass produced and an aim of the hotel will be to reduce costs as much as possible when preparing the different meal options. All Inclusive can also limit your freedom as you have to be at the resort to eat. Bare in mind a lot of All Inclusive resorts now limit alcoholic drinks to prevent the chaos of everyone being sloshed!
Eating out
The least budget friendly option will be to eat out in restaurants or tavernas. If you plan to do this for every meal, you are going to need a decent amount of spending money. A standard lunch or dinner for three adults and a baby would cost us on average 50 – 60 euros (with none alcoholic drinks and two courses). This was in local tavernas as the resort restaurants were closed during our visit in March. Expect to pay more if travelling in the summer season and also if you will have alcoholic drinks. A coffee and croissant will set you back around 5-6 euros if you plan to get breakfast at one of the many coffee shops around the island.
What to do (all available in and out of season).
Trek to the top of Angelokastro castle for amazing views.
Angelokastro castle
Hunt out Porto Timoni beach for insta worthy shots.
Porto Timoni Beach
Walk up to (or drive up to) Paleokastritsas monastery – enjoy the great views, lovely garden and take some great photos!
Relax on Paleokastritsa's beaches.
Take a road trip along the north/east coast – stop for views and coffee in a quaint village.

Fall in love at Sidari's Canal d'amour.
Canal d'amour
Visit the bustling Kassiopi, enjoy a coffee or meal at Wave bar overlooking the harbour.

Explore Corfu town – visit the old fort and enjoy views of the city from the top.

Visit the famous Vlacherna Monastery and watch a low flying plane whizz over your head.
Vlacherna Monastery
Learn about local Sea life at Corfu Aquarium then enjoy a drink in their cafe overlooking the sea.

Get dinner at the Golden Fox for panoramic sea views
The Golden fox view
Look for Flamingoes at The lake of Alikes – the best time to see them is May – September.

Trek to a more remote beach like Rovinia Beach – stop at Liapades beach view point for amazing views on the way down!
Liapades beach view point
Some of the links in this article are affiliate links. We only promote things we genuinely love – Jen