The Perfect Family Holiday: Playa del Cura, Gran Canaria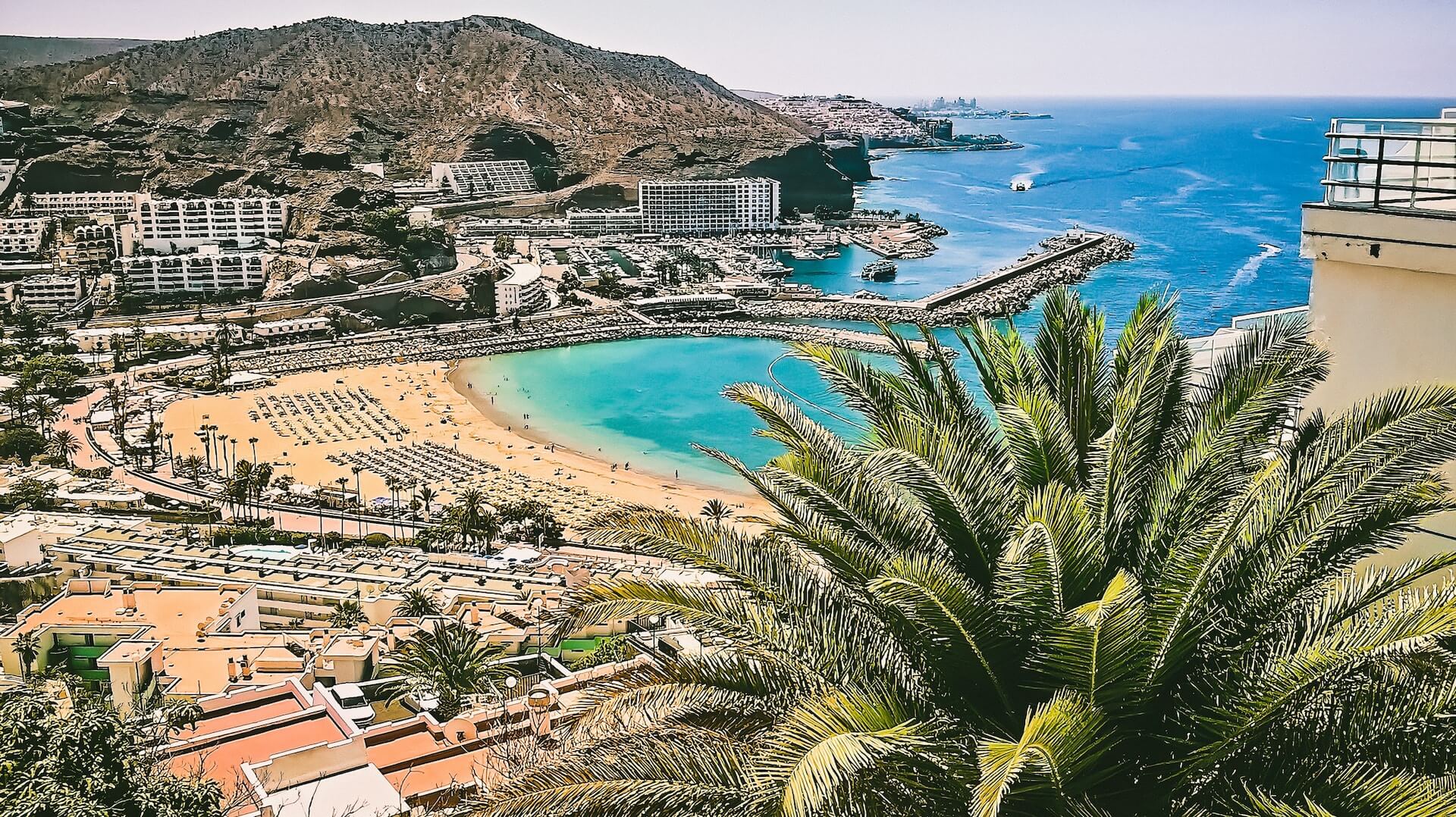 Cheap Travel
Family Travel
The Perfect Family Holiday: Playa del Cura, Gran Canaria
Our family holiday in Playa Del Cura was a bit of a fluke. I'd love to say I knew what a great place this was going to be, but honestly like most of our trips, we went where we could find the cheapest yet most appropriate flights and accommodation (the best way to travel). We found last minute cheap flights to Gran Canaria for only £25 with Ryanair. To get the cheapest fare we could only take a rucksack each (Ryanair flights come with a free 'personal item' and then you pay more to check in a bag or carry a suitcase on board). Each person gets a rucksack, even the baby, so between us we had more than enough space for the things we needed. If you want to know more about how we travel so light,
check out this post here
.
Once we had the flights, we started researching where the best place to stay might be. Puerto Rico comes up a lot as one of the best places for families and was initially where we were looking for a cheap room. Fate had something else in store for us as everything that was available at such short notice was extremely expensive. Playa del Cura is a quiet town around 3km away from Puerto Rico. It was here that we found our apartment in the 'Monsenor complex'. The view sold the place to us (see picture above) and the price seemed too good to be true (£479 for the week and it sleeps 4 adults). It had a double bedroom and a sofa bed in the living area. The kitchen meant we could eat really cheaply by buying food at the local Spar. Click here to see more details on the apartment. Use the widget below to see what other rooms are available in the area on the dates you want to travel.
Getting from the airport to Playa del Cura
We landed quite late at night and so we got a taxi to our apartment. As you leave the baggage collection area there are sign posts towards the taxi rank. They work on a metre and so the prices are fixed. It was around a 35 minute journey to Playa del Cura and cost us
€
65 (Around £55). That wasn't too bad when divided between four people, but you might want to use a cheaper option if there are less people travelling.
On our way back to the airport at the end of our holiday we got the bus. There are a few services that go between Playa del Cura and the airport, but the number 91 express service is the fastest. The fare is around €6 and the journey took 55 minutes – a huge saving compared to the taxi. The buses are comfortable and convenient, we actually preferred it to the taxi. If we visit here again we will definitely use the bus and not bother with a Taxi.
What we did during our stay in Playa del Cura

This is the perfect place if you are looking for a relaxing break in the sun, with lots of things to do close by without spending a lot of money. If you are looking to party then you should look at different resorts and this isn't the post for you.
Playa del Cura

The beach in Playa del Cura is a black volcanic beach with a dramatic cliff back drop. It is the only volcanic beach of the ones I will discuss in this post. We stayed in an apartment high up in the cliffs (as seen in the picture below). This is the first beach you come to in a chain of four beaches that are within walking distance from Playa del Cura. There is a lifeguard on duty and there are loungers/umbrellas for hire should you need these. This and the next beach along in the chain (Playa de Tauro) had moderate sized waves, these are lots of fun for older children with body boards and inflatables, but not great for a nervous toddler trying to gain confidence in the water.
Playa de Tauro

During low tide, accessing this beach from Playa del Cura is quite easy. Although there are a few rocks to navigate, we managed to do so with a pram, we had to carry it at points but it was easy enough. During high tide, the passage between the two beaches becomes more challenging. There's a rocky path around a large rock that separates the beaches, which might pose difficulties for those with limited mobility. In such cases, taking the bus from Playa del Cura and getting off at the first stop could be a viable option. It is then a short walk to Playa de Tauro.Compared to the other four beaches, this one is the least crowded. It features a beach bar with toilets, but unfortunately, there's no option to rent sun loungers or umbrellas. It's worth noting that the section of the beach farthest from Playa del Cura seems to be used as a nudist area.
Playa de Amadores

Once you reach the far end of Playa de Tauro you will see a ramp going up and around the cliffs. If you walk up there you will find the start of a well paved walk way. After a short 5-10 minute walk you will find the beautiful Playa de Amadores. The white sand and tropical vibes explain this beaches popularity. The water is extremely calm and crystal clear, perfect for little ones who are just starting to gain confidence in the water. There are sun beds and umbrellas for hire, tons of restaurants to choose from and even an inflatable 'fun park' floating in the corner of the cove.
The Amadores beach club is a trendy luxury venue to the west side of the beach. You can hire loungers there, enjoy live music and DJs, get a massage and try their delicious food served either in the restaurant or to your lounger.
Puerto Rico town and beach

There is a beautiful coastal walk way between Puerto Rico and Amadores beach. The picture above is taken standing on the start of that path (so you get an idea of where to head towards)|. It is approximately 1km long, well paved and shouldn't take longer than 20 minutes to complete. The views along the walk are fantastic. There is a little bar / ice cream shop mid way if you fancy a stop.
Puerto Rico is a lively town with lots of restaurants and bars. The beach sits along side the harbour and has calm water perfect for little ones. It is the type of place where there are lots of people on the streets trying to get you into their restaurants or to buy their excursions, but they didn't persist once we politely declined. There are lots of things to do here including water sports, boat trips, dolphin watching, diving and mini golf. The 'Angry birds activity park' is tons of fun for all ages. It is currently €12 for adult entry (everyone above 14), free for babies (0-2yrs), €8 for children aged 3 – 4 yrs and €16 for children aged 5 – 13 yrs old. This is the place to stay if you like to be in the thick of the action.
Puerto de Mogán

Puerto de Mogán is a beautiful fishing village a short bus ride from Playa del Cura. The beach is perfect for little ones and the town around the marina is colourful and vibrant. Flowers line the streets making it a great place to stroll around and photograph. A great place for a day out and change of scenery.
It is a 13 minute bus journey from Playa del Cura. The bus service numbers 1, 33, 70 and 91 to Puerto de Mogan will all get you there. The fare is around €1.40 each way.
Maspolomas

You can't visit the south of Gran Canaria without checking out Maspolomas. Famous for its impressive sand dunes, lighthouse and unique personality – it has a different vibe to the more traditional resort towns in the south. The light house overlooks the Maspalomas beach, with the extensive dunes stretching out to the east. There is a natural lagoon at the side of the dunes which attracts many species of bird and wildlife.
Maspalomas is easy to get to by catching a bus from Playa del Cura and other resort towns along the south. The number 1, 70 and 90 heading towards Las Palmas will all stop there.
Eating in Playa del Cura

To keep your trip as budget friendly as possible, you will ideally want to book accommodation with a kitchen. There is a Spar by the main roundabout which has a lot to choose from when you do your food shop. Not everyone wants to cook on holiday, I get it, but even buying some coffee, milk, bread/cereals and having breakfast in your apartment can save you a lot of money. We ate out for one meal a day and had the rest of our meals at our apartment. With a view like the one we had, it was really quite special enjoying a bottle of wine on the balcony with some tapas style food.
There are lots of restaurants in Playa del Cura to choose from. If you choose to stay in the Monsenor apartment complex like we did, the restaurant there is fantastic. Alternatively walk down towards the Spar to find a variety of options including an Irish bar that serves food and plays all the main sporting events.

Overall

Playa del Cura is perfect for anyone wanting a relaxing family holiday with little ones. The island has great weather all year round, so perfect for a winter escape. Flights to Gran Canaria can be found for a great price (see what you can find using our search feature!) and accommodation is very reasonably priced. Check out
the place we stayed
as the price was great, the view was amazing and it is ideal for a small family.

Some of the links in this article are affiliate links. We only promote things we genuinely love – Jen