Cbeebies Land – Full Review!
Cbeebies Land – Full Review!

Cbeebies land is located within Alton Towers resort in Stoke-on-Trent. This post will give you a complete Cbeebies land review, covering the best rides, shows, places to eat and more!
Admission is a bit pricey as you are paying for the whole Alton Towers experience. We ended up spending the whole day in Cbeebies land and didn't get the time to see any of the main park  there is just so much to do there. If you book online, the price is around £34 per person with under three's getting to enter for free. There are tons of 2-for-1 deals to be found by doing a quick google search. The cheapest way to visit Cbeebies land is to use Tesco Club card vouchers to purchase the tickets. We did just that. Our club card points add up quickly and we never know how to spend them, so this was the perfect excuse for a fun day out!
Arriving at the park
The car park opens at 9am so that people can arrive ready for the 10am park opening. The car park is currently £7 and a 15-20 minute walk from the main gate. There is a monorail connecting the car park to the entrance gate and it seems the majority of people used this. There is a ramp going up to the monorail platform making it accessible for wheelchair users and prams. Being able to wheel our pram straight on to the monorail without having to fold it up was really handy. We visited the park on a Saturday during the school summer holidays, it seemed very busy when we arrived in the car park but even so, we didn't wait longer than 10 minutes to get onto the monorail.
While on the monorail we downloaded the Alton Towers app which proved to be really useful throughout the day. There is a map of the park with a blue dot showing your location. You can then see which rides are close by and what the current wait time is. I will cover wait times further down in this post, but by checking the app regularly you can head towards rides when the queues are at their shortest. The app also lets you see what time the different shows are scheduled to start and set a notification so that you don't miss any.
Cbeebies Land Rides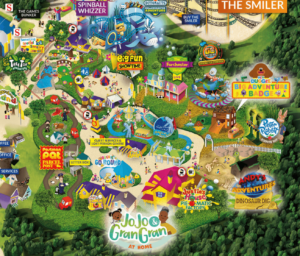 The park itself was a lot bigger than we expected. The rides are aimed at children between age 1 and 6. We waited for Leo to be 90cm tall before visiting, as we wanted him to be able to enjoy all of the rides. Once measured we were given an orange band to put around his leg, meaning he didn't need to be measured at every ride.
We arrived just as the park opened, meaning most of the rides initially had short queues. We made a beeline for the Octonauts Rollercoaster predicting that this may be one of the busier rides. The wait time at the start of the queue already said 30 minutes, however this was an overestimate and we waited around 15. This was Leo's first rollercoaster experience and he loved it. For any Cbeebies obsessed toddler, the familiarity of the theme tunes, the characters, and the excitement of trying something new is really a brilliant experience.
Rides for
under
90cm
Get Set Go Tree Top Adventure
Children under 1.1m must ride with an adult
This seemed to have the longest wait time of the day, with peaks of 80 minutes!
We were going to skip this one due to the excessive wait times, but towards the end of the day (around 6pm) the queue had gone down to around 20 minutes. We ended up waiting around 10 minutes. This one is great as you don't need to be 90cm to ride, we saw a newborn baby going round with his mum and little brother. It is essentially a little car that takes you around the park, up in the tree tops. Not the most exciting ride but Leo enjoyed pointing out all the fun things he had seen and done during the day. I would have been disappointed if I had waited 80 minutes for it!

Postman Pat parcel post
Children under 1.1m must ride with an adult
The wait time seemed to be between 20-40 minutes. We queued when it said 20 minutes, however waited around 10.
Leo was most excited about this ride, we had watched some YouTube vlogs of people at the park the day before we visited and this one seemed to have stuck with him. "Post man Pat please!!" was all we heard all day until the wait time had reduced enough for us to join the queue! You drive around in postman pats van, two kiddies can sit at the front 'driving' and there is space for two adults in the back. There are lots of buttons to press and a camera at the start to take a cute photo. Like most of the rides here, I wouldn't want to be waiting longer than 30 minutes for this!

In the night garden Magical boat ride
Children under 1m must ride with an adult
Wait time for this one frequently went up to 55 minutes. We waited until it was 20 towards the end of the day.
Great for any 'In the night garden' fans, if we didn't watch the show it wouldn't have been as entertaining. You get on a boat and enter the night garden, going passed the 'Ninky Nonk' , Tombliboos, Upsy Daisy, Makka Pakka, the Pontipines, the HaaHoos and Iggle piggle. We had a laugh trying to remember all the stupid names as we went round (The 'Bingybongs'?, 'Noftynoos'?.) Each characters song plays as you approach them, it was fun singing along and seeing how excited Leo was to meet his creepy idles. This one is worth waiting for if you love the show.
Children under 1m must ride with an adult
Wait time seemed to consistently be 0 minutes. There is lots of space so the wait time was essentially one spin of the carousel.
What toddler doesn't love spinning around. They get to sit on little cars as the carousel spins. Brave parents get to sit on a bench right in the middle, enjoying maximum spinning… definitely not for those with a weak stomach!
Rides for
over
90cm
Octonauts Rollercoaster adventure
(0.9 – 1.1m must ride with an adult)
Wait times were around 30 – 45 minutes throughout the day (but often went down quicker)
Leo's favourite ride of the day. A lot of the rides are aimed at really young children, this is the most thrilling of them all! The Octonauts music is exciting, there are bubbles at the start and a camera to capture your little ones face towards the end (Photos are 4 for £20). The cars are really tight, I am 164cm and around 64kg and I felt squashed – Joao is 192cm and JUST managed to squeeze in. Plus sized people should take this into consideration before spending a long time queueing.

Go Jetters Vroomster Zoom ride
(0.9 – 1.25m must ride with an adult)
The wait time for this one frequently dropped to 10 minutes.
Another exciting ride for the little ones. Leo is a big Go Jetters fan so the music and the characters really got him pumped! We got some cute pictures of him and his dad sat in the little vroomster. The characters at the start of the ride make for a great photo opportunity too. There is space for a lot of people on each go, so the queue never seemed too long for this one. Leo's second favourite ride of the day!

Peter Rabbits hippity hop
(0.9 – 1.1m must ride with an adult)
Wait time for this one varied from 15-30 minutes throughout the day. They were only letting one family on at a time due to COVID, so I imagine it's usually a lot faster
The ride essentially bounces up at down which is very exciting for the little ones, less so for the bigger ones! There's a cute photo opportunity to take a picture with Peter Rabbit by the start of the queue. There was only one of the 'Hoppers' going on the day we visited, usually there are two so I imagine the queue is usually very short.
Justins house Pie – O – Matic factory
(Under 16's must be accompanied by an adult)
The queue for this seemed to be around 20 minutes throughout the day. Essentially the length of a session. We waited around 10 minute for a session to finish and then we were in.
This is great fun for all the family. There are tonnes of sponge balls and chaos ensues as everyone runs around firing them from guns, out of cannons – there are slides and lots of things to essentially put balls in and watch them be fired out. There are balls flying around left, right and centre. I think we might have had more fun than Leo at this one!

Charlie and Lola's Moonsquirters and Green Drops
Closed during our visit so unable to review.
Cbeebies Land Shows
The 'Big Fun Show Time' arena hosts three different shows throughout the day. Each is repeated three times to ensure you get the opportunity to see them all. In addition to this there is the 'Furchester Hotel' Live show which runs every half an hour, and 'Mr Blooms Allotment', again running every half an hour. The Alton Towers app has all the times on so you can plan your day around the shows. Within the main 'Show Time' arena there is a snack counter which serves drinks and snacks, and toilets with both baby changing and baby feeding rooms. There is a large sheltered area where the performances happen. We arrived 10 minutes early to each show and were able to sit right at the front. This is great if it starts raining which lets be honest, is likely even during the summer months! At the end of each show they offer photo opportunities with the characters, and the line forms from the centre at the front. By sitting at the front you are in prime position for enjoying the show and for being the first in the queue for photos!

The main shows are currently:
Bing and Flop go for a picnic, Bing whinges a lot and Flop shows unparalleled patience. To be completely honest I wasn't following the story, I find Bing infuriating and was more engaged in filming my Sons face every time they went near him!

Teletubbies Big Band show
They are huge and terrifying, Leo was a bit taken aback by how tall they are in real life. The story was something about them forming a band. Tinkywinky did some singing, we had to help them look for a variety of instruments. It was cute. Leo did NOT want his photo taken anywhere near them.

Hey Duggee and the Big Day out Badge
Leo got most involved in this show, he loves Duggee and was very excited to see the big man himself. They sing the 'stick song' and get the kids dancing and clapping. Again, I zoned out and so couldn't tell you what the story was about, but Leo seemed to be following it and loving life.
Other activities and facilities

Something Special: Sensory Garden
A nice area to walk around and look for Mr Tumbles spotty bags. Inside each bag are different insects to discover. There are various videos on screens of the theme song and Justin signing. There are lots of herbs and flowers to smell plus some drums to bang by the path as you head out.

Tree Fu Tom Training camp
This big park has lots to do for all ages. There is a zip line and large rope climbing frame for bigger children. For the smaller ones there is a large wooden tunnel and a boat themed climbing frame with slide. Leo screamed the place down when it was time to leave. Always a good sign of a good time!

Toy shop
Selling a variety of expensive Cbeebies toys and clothes. We got a Hey Duggee book, Some Go Jetter Dominoes and a Bing memory game, all for £20; so there are a few cheaper things to be found if your child insists on buying something. They sell hats if you happen to go on a sunny day and forget the essential safety items (as we usually do) plus ice cream, drinks and snacks if you are feeling snacky.

Little explorers lunch box
A cafe selling great coffee (around £2.90 for a latte), sandwiches and kids meals.
The kids meal is currently £5 and you get a drink, snack and choice of either a sandwich, jacket potato or pasta. We had a coffee while Leo ate, then went looking for something more exciting for lunch outside the Cbeebies Land gates. We didn't get far before it started to rain so we darted to a near by tent with picnic benches in and bought Chicken Burgers from a food stall close by. Four chicken burgers, two plates of chips and two Fanta lemons cost £42!! We will definitely bring a packed lunch next time!

Overall we had a fantastic day at Cbeebies Land.
There was so much more to see and do, including an aquarium across from Cbeebies land which we really wanted to visit and a variety of other rides and experiences within Alton Towers. We didn't get the time on this visit, but we will definitely be back again with our Tesco vouchers!
Information is correct at time of posting, let us know if anything changes and we will update the post!