Disneyland Paris on a Budget
Cheap Travel
Family Travel
Disneyland Paris on a Budget
Visiting Disneyland Paris on a budget is absolutely possible with some careful planning and savvy choices. The tickets are unfortunately going to be pricey, but we have some tips to ensure you get the best possible price. 
In this guide we'll walk you through the essential tips and tricks for visiting Disneyland Paris on a budget. From choosing the right accommodation to deciding how you're going to get there, we've got you covered.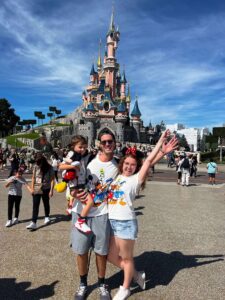 Getting to Paris
Your choice of transportation can significantly impact your overall budget. We have now added Disneyland Paris to our websites search feature. This has been incredibly popular and makes your trip planning super easy. 
Use our "Start your Journey" feature to input your departing airports. Select "Disneyland Paris" in the specific location. At the date section search broadly by month or input a specific period of time you can travel. You could, for example, select all the long weekends in a particular month and say you want a 3 night stay. We will then find you the best value flights to the appropriate airports. As well as this we source some well rated accommodation in great locations.
Flying into CDG Airport:
The most convenient airport to fly into is going to be Paris CDG. From here you can easily get the TGV fast train straight to the park. The train will drop you off at Marne-la-Vallée Chessy station which is a few minutes walk away from the park. From here you can easily get the train to the area I am going to recommend you stay, Val D'Europe. It is best to purchase your TGV tickets at the last minute or even on the day. For some bizarre reason they are double the price when booked in advance (£34 in advance, £17 at the last minute!)
An alternative to the train would be the magic shuttle. This air conditioned bus takes around 45 minutes and can drop you off in Val d'Europe. This costs €24 for adults and €11 for children
If you arrive late at night you may end up needing to get a taxi. This can cost up to €90. If you are a group of 4 this could be a great value option with the added convenience of being dropped right at your hotel. 
Flying into ORY Airport:
Alternatively Paris ORY airport is a similar distance from the park but it doesn't have the convenience of the high speed TGV train.
From here you can get the 'Magic Shuttle' bus which is €24 for adults and €11 for children. This takes around 60 minutes. Note that the last buses run at around 7pm, so this isn't an ideal option if you are arriving late in the evening. 
Late arrivals may need to get a taxi which will be around €90 – if there are a group of you travelling this again may be worth while for the convenience. 
Driving to France from the UK:
If you are a larger family or you need to travel with a lot of luggage, driving is an option to consider. Taking check in luggage can really hike up your flight costs, we always recommend travelling light when possible. Driving to France means you can pack as much as you want (and could even bring some great value wine back home!)..
We recently drove to France from Nottinghamshire, this was a 4 hour drive to Dover, a 1.5 hour ferry crossing and then 2.5 hours to our Eurocamp base. I will talk more about using eurocamp as a base further into this post. 
When considering driving to France you need to:
Budget for petrol, the price of the ferry/shuttle and tolls within France.

 

Ensure your car insurance covers you for driving outside of the UK.

 

Purchase breakdown cover incase you have any issues with the car in France.
Legally you need to make sure your vehicle is identified as being from the UK. If you don't have the new style registration plate with UK on there, you need to get a sticker for the back of your car.
By law you need to carry reflective jackets and a warning triangle – This is a great set that has everything you'll need including the UK sticker.
Directferries is a useful website that compares the price of different ferry companies and the shuttle. On the trip we recently took, the ferry was almost half the price of the shuttle. For the best shuttle prices you need to be booking as far in advance as possible.  We are eternal last minute planners and only booked our ferry on the day before we travelled!
Finding Affordable Accommodation – Val D'Europe
One of the keys points to visiting Disneyland Paris on a budget is choosing the right place to stay. While staying at a Disney hotel would be magical and wonderful, we are on a tight budget here! Instead, consider staying in the nearby town of Val D'Europe. Here's why:
Variety of Accommodation Options: Val D'Europe offers a range of accommodation options, from budget-friendly hotels to private apartments. You'll have no trouble finding something that suits your budget and group size.

 

Proximity to the Parks: Val D'Europe is just a stone's throw away from Disneyland Paris so a super convenient base for your trip. Many hotels in the area offer a shuttle services to the park. Alternatively take the train and travel just one stop to be at the park.
Easy access from the airport: The train station in Val d'Europe is only one stop from Marne-la-Vallée Chessy station (the station at Disneyland) where the TGV will drop you off.

 

Shopping and Dining: Val D'Europe has a large shopping centre where you can purchase some Primark Disney merch before you visit the park. My Minnie Mouse ears were €4.50 in Primark and €20 in the park! There are also lots of cheap places to eat here.
If you use our search feature to look for a trip to Disneyland Paris, we will find you the best flights and hotel for your availability. It is free to use, you just need to sign up for a free account!
Eurocamp as a Budget Friendly Base
For a unique and budget-friendly base near Disneyland Paris, consider the 'La Croix du Vieux Pont' park in Berny-Rivière. I am going to make a whole post on our recent stay here but in summary, here's why this eurocamp park could be a smart option:
Affordability: Eurocamps are often more budget-friendly than traditional hotels, making them an attractive option for families and people on a tight budget.
Spacious Accommodation: Caravans come equipped with kitchens, allowing you to save money by preparing your own meals. This can significantly reduce dining costs. We spent under £100 on all of our meals for our 3 night stay.
Lots for kids to do: There are lots of activities to keep kids busy on the days that you aren't at Disneyland. Whether its swimming, waterslides, boating, mini golf, bowling, relaxing at their "beach area" or the evening entertainment, your kids won't get bored here.
Transport to Disneyland: The park offers a paid shuttle to Disneyland or Paris centre. Alternatively the drive to Disneyland is just over an hour.
We booked our 3 night stay via The Sun holidays and it was only £150 for the 3 nights for all of us! This was during the August school holidays too. I'll discuss this more in the specific Eurocamp blog post (that I will write soon!).
Getting the Best Ticket Price
We all know it is the ticket prices that will really hike up the cost of this trip. Although our main aim is to reduce all of the other costs surrounding this trip, there are a few ways to save on the tickets too. Here are some tips to help you save on park admission:
Off-Peak Visits: Visiting during the off-peak seasons or on weekdays will result in lower ticket prices and also shorter queues for the rides. Prices can vary over £30 per ticket when comparing different dates. Use the official website to view their price calendar, this makes it easy to see when the cheapest dates to visit will be.
Third Party Providers: Attractiontix is a great website for buying park tickets. It will often save you a fair few quid per ticket which can really add up for a group. Using an example of a two day, two park ticket for the 6th of November. On the official UK Disneyland website the tickets are £141.72 per adult but on Attractiontix the same tickets are £132.47.  There are often little add ons with these third parties too, for example Attractiontix are currently giving you 3 months of Disney+ along with the tickets.
Compare the UK site with the French one: Often the French Disneyland site has cheaper tickets than the UK one! If we use the example above, the 2 day 2 park pass on the UK site is £141.72, on the French site it is €156 which converts to £134.63. If paying in euros make sure you pay with a specialist travel card to get the best rates.
I hope this post has helped you believe that you CAN visit Disneyland Paris on a budget! By making savvy decisions throughout the planning process, you really can reduce the cost of your trip. Like i've said, try our search feature for help finding the best flights and hotel for you. If you need anything else we are always happy to help 🙂